Tiger Tales: Almost True Animal Stories from Old Singapore
History is full of amazing stories, and indeed, that of Singapore is one born of the most fertile imagination, rich with romantic stories of sultans and adventurers, and incredible animal tales.
It's the latter that you will read about in our newest release titled Tiger Tales: Almost True Animal Stories from Old Singapore. We were very much inspired by the rich biodiversity of the island and we wanted to capture the time when it was wild and blanketed in lush rainforests. Through this, we hope to offer a precious glimpse of Singapore from long ago and the lives of its pioneers for a very special audience—our young readers.
In those early days, people lived side by side with creatures large and small. If you had lived on the island then, you might have spotted giant red flying squirrels gliding by, chased cheeky macaques from your yard, or danced to a sweet symphony of bird song on balmy jungle evenings.
Of course, things were very different then. How people at that time regarded and treated animals is very different from how we see the natural world now. There were often both fascination and fear when man met beast, and sadly, animals were hunted and killed.
But that was then. Far from capturing or killing animals these days, it is in fact our responsibility to care for and protect the animals that we share this planet with.
With time and modernisation, some of the animals drawn in the pages of Tiger Tales have disappeared from Singapore. Others are endangered. Environmental groups and champions of biodiversity are working hard to protect them, and we hope to do our part by raising the awareness of the wildlife that still remain on our island. Read more about them in the final section of the book titled "Wild at Heart", which celebrates some of the creatures that roam our island, as well as on this blog.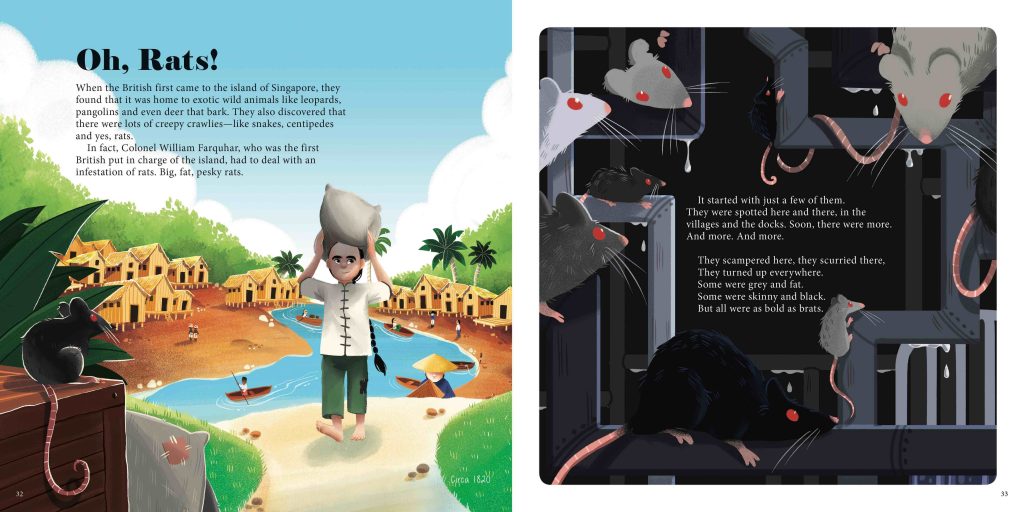 While some poetic licence was taken in their telling, all of the stories featured in Tiger Tales are inspired by documented historical events, from Sang Nila Utama's encounter with a mysterious beast that led to the founding of Singapore, to the island's infestation of pesky rats in the 1820s. Alongside the main stories, there are also many details in the book that point to yet more stories of other creatures that share this island with us.
We will be sharing some of these on this blog, along with some fun Tiger Tales-inspired craft, so come back here often!
Tiger Tales: Almost True Stories from Old Singapore is available for sale at major bookstores in Singapore, including Books Ahoy, Books Kinokuniya, The Fullerton Shop at The Fullerton Hotel Singapore, Garden Shops at Botanic Gardens, Huggs-Epigram Coffee Bookshop, Museum Shops at the National Museum and Asian Civilisation Museum, and Woods in the Books.

It is also available online at Books Kinokuniya, Closetful of Books, Epigram Bookshop, Natventure Books, Owl Readers Club and Woods in the Books.